NetApp's New Identity: You paid how much!?!?!
Posted on March 17, 2008
I kid you not, NetApp has a fresh look… for review, here is the old:
And the "new and improved":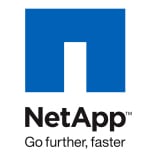 Uh…… ouch. Seriously.
Of course, this isn't without problems, El Reg reports that the logo is already in use elsewhere. Splendid.
I'll admit that the little "data arrow" above the old logo was confusing to some people, especially when on fabric, but the new one, eh, its just not distinctive and I think obscures the NetApp brand presence.
---